The white sand, the majestic view of the Atlantic, the sights and sound of a tropical paradise – all these make Daytona Beach the perfect place for those looking for a laidback and relaxing vacation. However, if you're looking for something more heart racing, Daytona Beach is the perfect vacation spot for you as well.

Those who are in the tourism business in Daytona Beach have recognized the growing number of thrill-seekers who are seeking for a different kind of adventure when they visit The World's Most Famous Beach and they are quick to respond with an array of extreme adventure activities.

Here are some of the things that you can do in Daytona Beach that will surely get your adrenaline rushing and heart pumping.
Richard Petty Driving Experience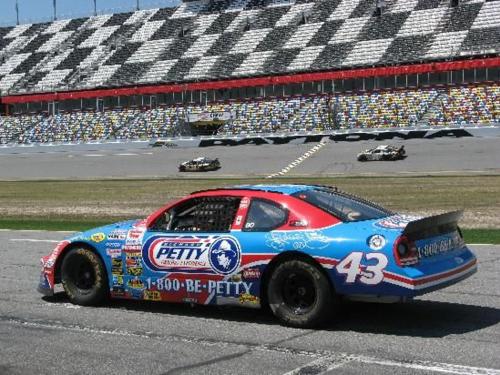 If you're a NASCAR fan and being a race spectator is not enough thrill, you can live out your motorsports dream through the Richard Petty Driving Experience. This is the closest you can get to the actual race experience. Get ready for an exhilarating 150mph ride in a 600-horsepower NASCAR stock car and race through Daytona International Speedway's world-famous track, including its signature 31-degree banking. You can race through the track from 8 to 24 laps. If you feel that driving a NASCAR vehicle is too much for you, you can choose to ride along with a professional NASCAR drive for three exhilarating laps.

Image credit: http://insidetailgating.com/
Zoom Air Adventure Park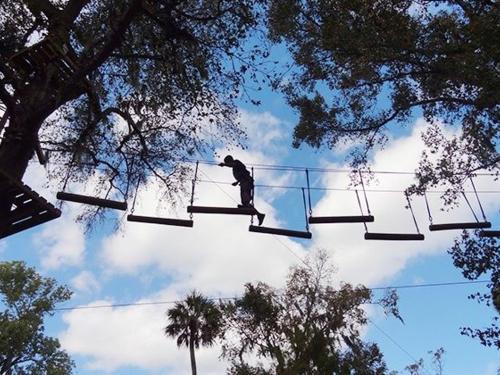 If you want to be one with nature in a more exciting way, check out Zoom Air Adventure Park. With different courses, Zoon Air Adventure Park gives you a taste of what it's like to live on top of trees in an exhilarating fashion. Walk along suspended planks. Zip line from one tree to the next. Get from point A to point B just by walking on a rope (yes, just a rope!). This is an aerial obstacle course unlike any other.

Image credit: http://img.grouponcdn.com/
Parasailing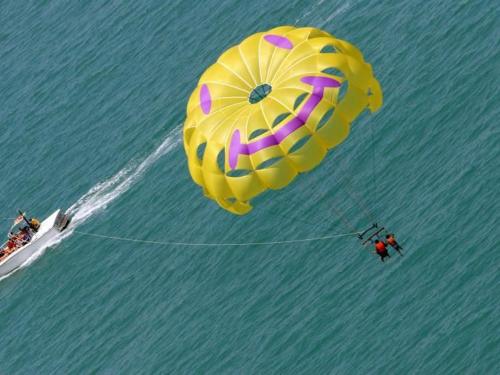 Parasailing combines height and speed so it comes as no surprise that it's one of the favorite activities thrill-seeking vacationers. Daytona Beach is arguably one of the best spots to enjoy this aerial adventure, offering a panoramic view of the Atlantic Ocean, the beach, the city and the nearby scenes of Florida.

Daytona Beach Parasail Inc. has four location along Daytona Beach. If you're that brave, go ahead and do it alone. But if not, you can bring up to two friends with you in this sky high adventure. You can also choose how high you reach – from 800 feet to 2,000 feet.

Image credit: http://kumutu.com/
Surfing
Daytona Beach is a surfing haven and you should put this in your bucket list the next time you visit The World's Famous Beach. There are a number of surfing camps along Daytona Beach Shores as well as the nearby Ormond Beach. These camps are one-stop shop – they provide you with the skills, the board and the surf wear. Just come as you are be prepared to ride the waves! These surf camps offer lessons for all ages and for all expertise.

Image credit: http://purelifesurfschool.com/

Daytona Beach – A Different Adventure at Every Turn
From the race track, to the see, to the tress, to the sky – Daytona Beach is definitely a haven for adrenaline junkies who are looking for heart-racing adventures. Make sure to check out the activities above the next time you visit Daytona Beach.

- Please come by and visit us. Or if you don't want to take a dare on a no name hotel...stay at our Award Winning and Top Rated Quality Inn Daytona Speedway! Happy Travels.

-Staff at Quality Inn Daytona Speedway.